Every day, a new article appears online telling us how much it costs to get married on your wedding day. From how much a wedding dress usually costs to how much the average maid of honour pays for her dress, it seems like there are no limits on how much you can spend. While this might be true, when you crunch the numbers and compare them with weddings in other parts of the country, you may find that the cost of getting married is quite reasonable.
When you break down the numbers for your wedding ceremony costs, it's easy to see why some couples choose to spend more than others. Here are some ways to make sure your wedding budget is on point for prices and avoid any unnecessary expenses during the planning stages of your fairy tale wedding.
How much is a wedding cake?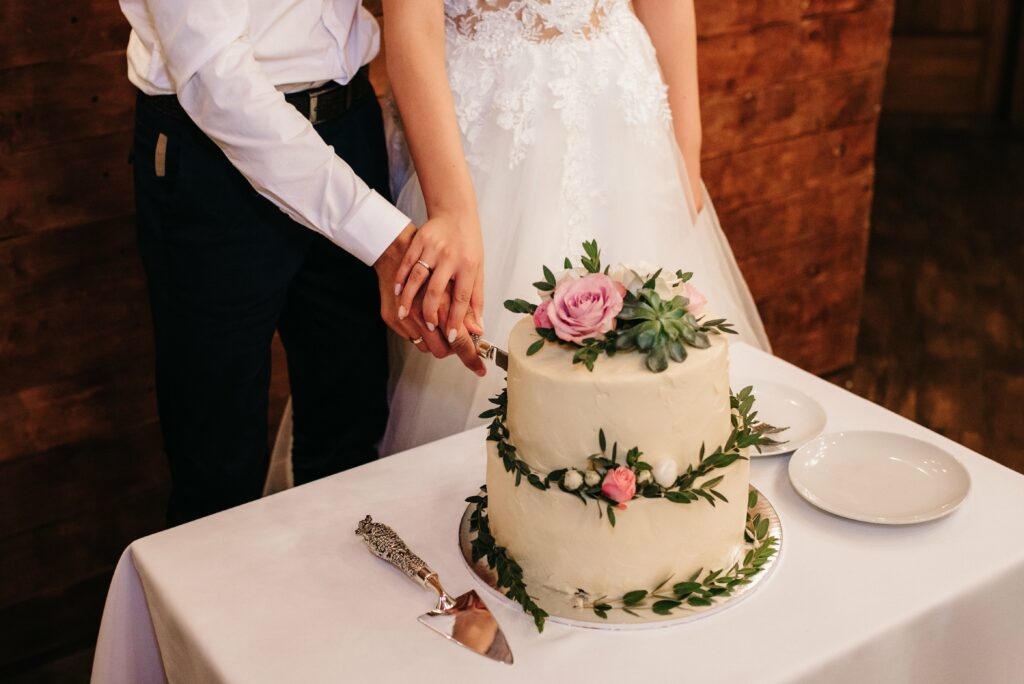 Wedding cake cost in the UK is relatively cheap. The prices that cake makers usually provide are £200-£400.. When it comes to wedding cakes, you have a range of choices that you can choose from to suit your preferences. Wedding cake costs don't usually change depending on time of year, unlike some wedding suppliers who will higher their prices according to season. However, your location can change prices slightly. For example, in London, wedding cakes are more expensive compared to other parts of the country. The delivery fee also contributes to prices changing. The wedding cake design also plays a role, typically if you buy a £100 cake, the design will be minimalistic. However, if you buy one that's £200- £300, the design will be a lot more detailed and unique. So it really depends on what amount of money you are willing to spend. The tiers on the cake can alter the price range too. Generally, a 2 tier cake costs £160, 3 tier cake costs £250 and a 4 tier cake would cost around £300-£400.
Who pays for the wedding and wedding suppliers?
It differs each time with who pays for what in each wedding. There are so many significant parts to a wedding such as paying for the wedding venue hire, wedding band, cost of wedding flowers, wedding photographer cost, wedding car hire, wedding videographer, wedding catering etc. It also depends on the theme. Traditionally, the bride's family will offer to pay their wedding expenses for all things to do with wedding suppliers such as; the reception venue, this usually includes the venue hire, catering, drinks, entertainment and the wedding cake, while the groom pays for the honeymoon. In tradition, the groom's family usually pays for aspects such as the suits, bride's bouquet, rehearsal wedding ceremony dinner and the cost of the marriage certificate. However, during more modern times, the majority of couples choose to pay for their dream wedding themselves or split the average cost between two families for wedding suppliers.
How much is a church wedding?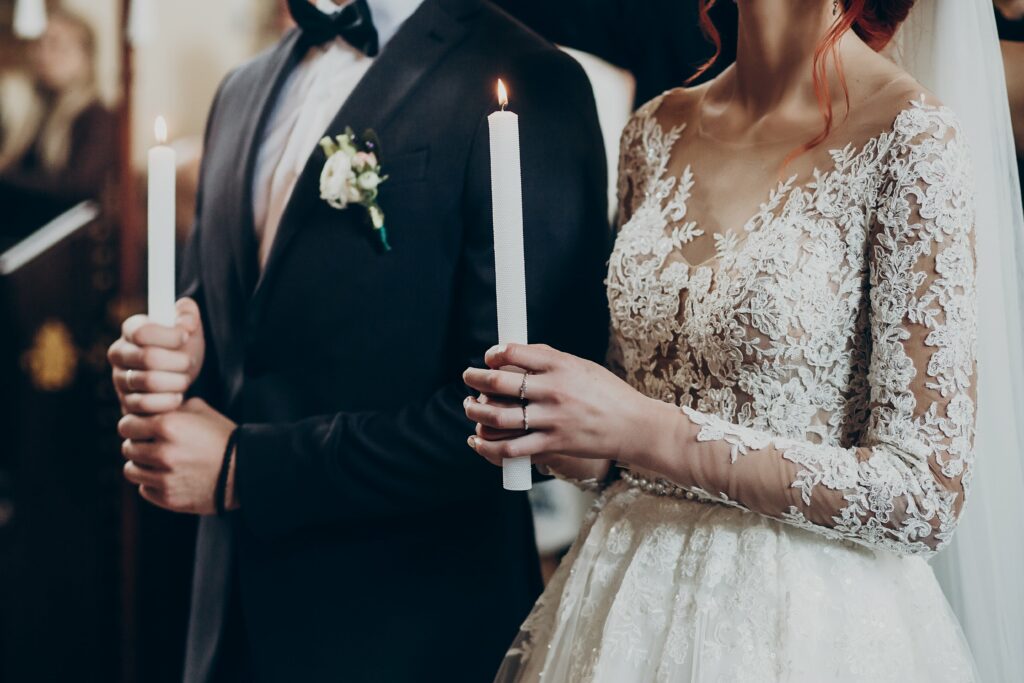 If you're looking to plan your wedding at a church, the average church wedding cost can be quite expensive. If you don't want to spend thousands of pounds on a venue, consider having your ceremony in a more intimate location like a beachfront wedding or a barn style
wedding. There is a legal fee you have to pay to get married in a church. If you are marrying far from where you live, the wedding costs around £560 and £512 if you are close to home. This is set by the Church of England and typically includes the average cost of the vicar, the church, banns certificate, administration and lighting. Plus you have the additional prices of wedding suppliers such as wedding photography, wedding transport cost, makeup artist and many other wedding suppliers, therefore the price will be higher overall.
How much do flowers cost for weddings?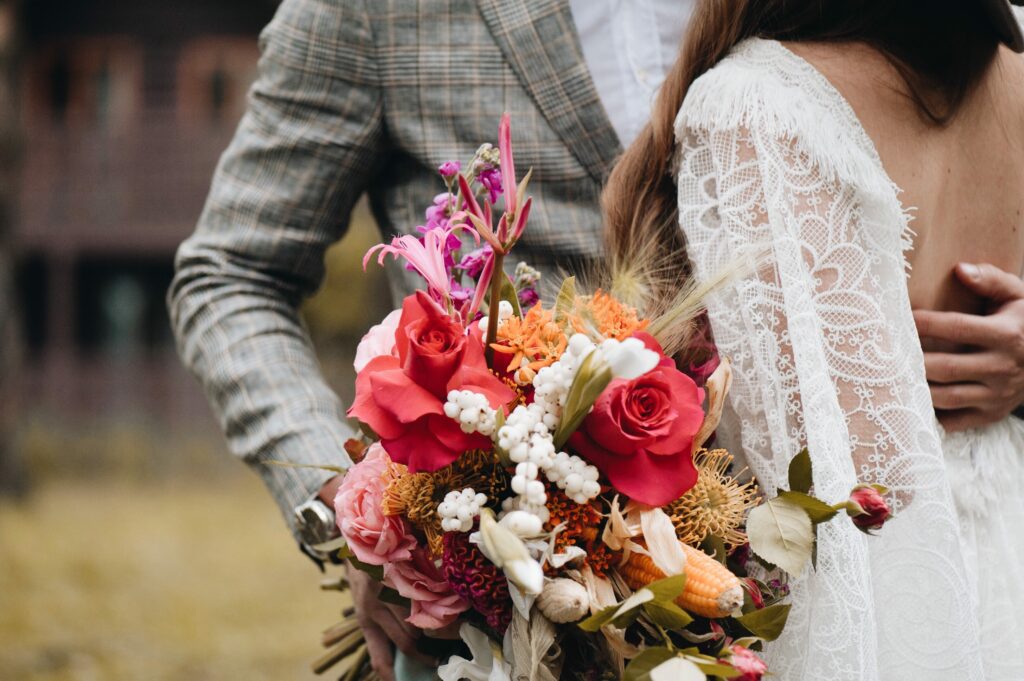 On your amazing wedding day, everyone wants a beautiful bouquet. You see these in any venue, whether it's marquee hire or church hire. They are usually popular for marquee hire because flowers match lovely with the white background of the venue. Depending on what type of flowers you want, the price differs. If you are planning a specifically budget wedding, then the happy couples are advised by wedding suppliers such as professional florists, to have at least £1000. It's also important to note that florists in bigger cities are likely to have higher prices. Also, seasons play an important role in cost. If your wedding is near the time of Valentine's Day, red roses are guaranteed to have a higher expense. Or if you are planning to have a winter wedding, then your selection of flowers can be more expensive and limited depending on your wedding suppliers.
How much is a wedding photographer?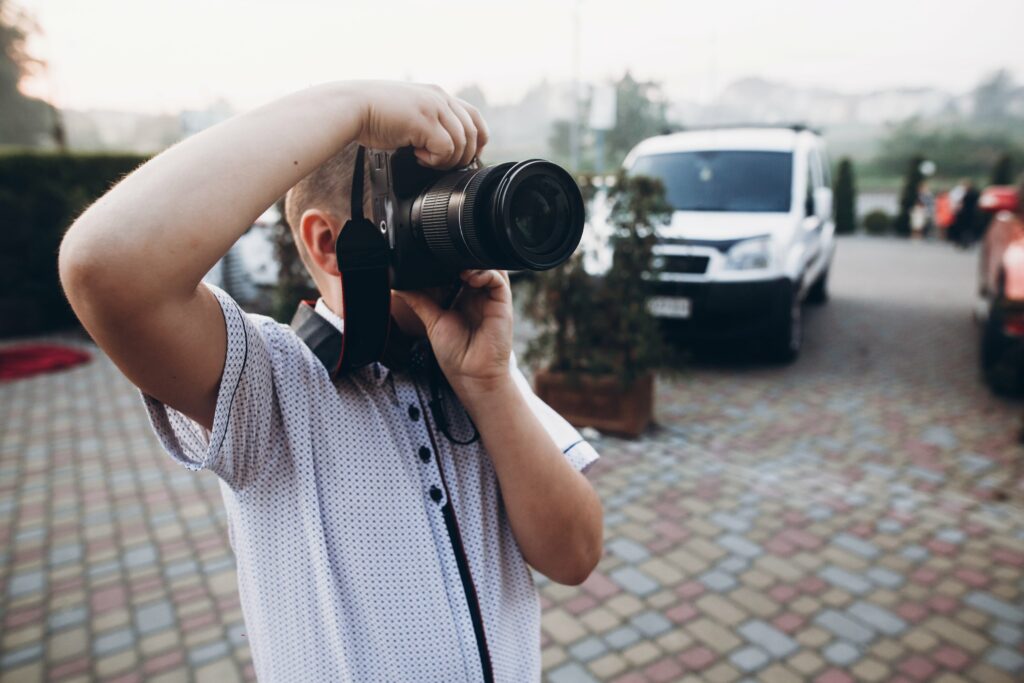 How much does a wedding photographer usually cost? We know that this is an important question to ask yourself because you'll want to make sure your photographer is worth the investment. Since wedding photographs are such an important part of your wedding, and your wedding photographs will be cherished for many years, you should make sure the photographer is the right fit for you. The vast majority of wedding suppliers such as wedding photographers in the UK have an average cost of £850 -£1,600. The average couple realistically spends approximately £800 when on a tight budget.
How much is a wedding car?
The average cost of wedding car hire in the UK usually adds up to about £300 altogether. The price range alters between each wedding car hire company. At Cheringham Cars, we offer high quality cars for very low prices. For example, one of the exquisite cars we offer is the Rolls-Royce Phantom which comes with a professional chauffeur and TVs inside the car, all for the price of £350. Or there is an even cheaper option of turning up in a Tesla Model S, perfect if you would like to take a more modern approach, with an affordable price of £250! Perfect if you are having an outdoor wedding and want to turn up in style. Popular options also include the Range Rover Vogue which has an additional cost of £45 but a slightly more chic car to choose from.