About Cheringham Wedding Cars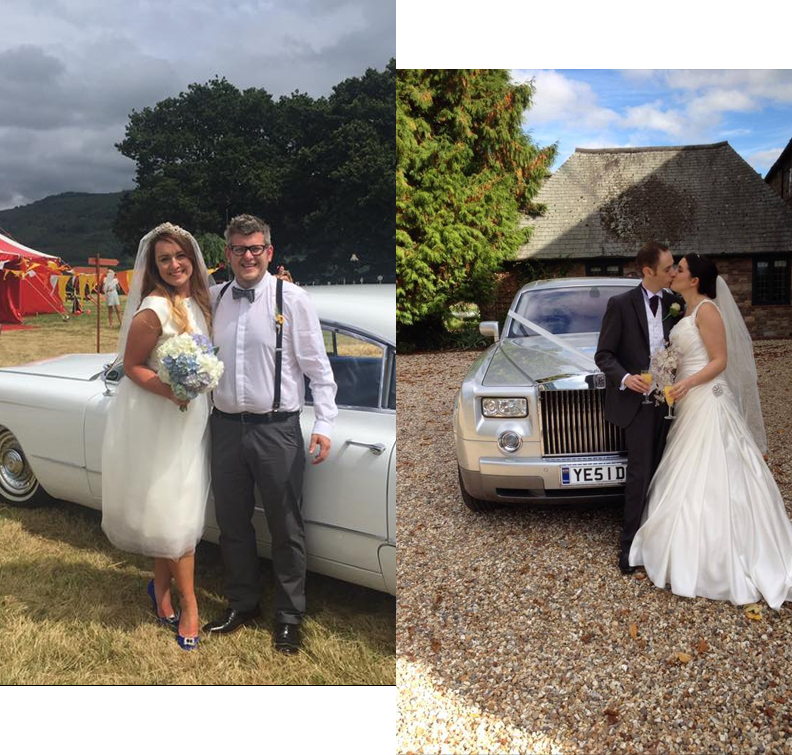 The executive division of All Stretched Out. We are a family run business that started the craze in the UK for American Stretch limousines. All Stretched Out became the largest new and used American importer in the world. After 30 years of selling and running a high profile American sales and rental company we have decided to hand over the reigns to my son Sam who has whole heartedly embraced the hire portion of our business.
Myself and my wife Judy have lived and breathed American limousines. We both decided limousines are now a younger persons game. As a husband and wife team that have striven to offer the most diverse fleet of vehicles in the area we could not walk away from something that has been part of our lives for so many years.A retirement plan was needed and hatched.
We had shown that we could offer the best in limousines, now for a change. We wanted to stay in what we loved.
So a few years ago we invested in a bespoke brand new fleet of wedding cars. Hence Cheringham Wedding Cars was born. Helping you create perfect wedding days in Cardiff, Bristol and Newport.

We pride ourselves in having the only fully bespoke fleet of wedding cars. All our vehicles are custom built to our own specifications and supplied new to us.
Vehicles can be viewed throughout the week including evenings in our fully lit, enclosed showrooms where, whatever the weather one can browse our stunning fleet at your leisure. All cars are open and you are welcome to sit in and take in the ambiance of these prestigious vehicles.

We are the only company in South Wales and the South West to offer both.
Rolls Royce Phantom (Voted the best saloon car in the world, as used by Simon Cowell and many other famous celebrities)
Rolls Royce Ghost (As owned by Lord Sugar of the Apprentice)
Both these vehicles are British craftsmanship at there best. Total opulence with air conditioning throughout the cabin, heated seats if the weather becomes brisk, for the longer journeys there are rear fitted tvs and one can relax in the sumptuous Rolls Royce lambswool rugs.
Whether its that special day with the peal of wedding bells, day at the races, prom or just a day to be wafted in pure luxury, Cheringham Wedding cars have the Rolls Royce for you.
Our fleet also offers a twist on the theme of vintage cars. New cars that are built to look from an age gone by, all of the latest amenities such as heaters and landaulette roofs that operate in seconds. We wanted to stand out as the premier wedding hire company, these vehicles are built for the bride to be transformed into a fairy tale world, with our buttoned white interiors, and modern day colours they are the perfect vehicles to make that day even more special.
As my heart would not let me leave American cars to rest, I had to included a fleet of Cadillacs the iconic car of the 50s and 60s ( I owned my first Mustang at 17) We have a fleet of Cadillacs that I have spent years restoring. We have a pair of black and a white 1959 Cadiilac Fleetwood Specials that really are the most outrageous 'Chromes and Fins'. A 1960 white Cadillac 62 series. New to fleet this year is a 1961 Cadillac convertible to finish our collection of Cadillacs. We also have a 1949 Cadillac in storage awaiting renovation.
We have the latest Range Rover Vogue in white with matching trim, a white latest model Tesla S in white and not for the faint hearted, 800hp Litchfield Nissan GTR.
Judy and I feel we have built an unique fleet of vehicles that will appeal to everyones choice. All vehicles are chauffeur driven by our suited and booted fully trained drivers that have worked for many years with us.Our drivers are rigorously trained to offer the highest driving and etiquette standards for your day. Nothing will be too much trouble, we want to start your day in perfect harmony.
We are not brokers. all vehicles can be viewed by appointment, you would not buy a car without seeing it,why rent a car without viewing it. Judy and Simon would love to meet you and help plan your day to run as smoothly as possible. All wedding cars are supplied with ribbon, colour of your choice and either bubbly or alcohol free bubbly for bride and groom after the ceremony.
WHY CHOOSE CHERINGHAM Wedding CARS?
we specialise in beautiful hard to get cars
We offer elegantly-designed cars, perfect for creating the best memories on any occasion such as Rolls Royce Phantom and Rolls Royce Ghost, Tesla S, Cadillacs, GTR, Range Rover and Flora the Viscount. These prestige cars are brand new and exclusively supplied to our specifications.
a FAMILY BUSINESS THAT TAKES PRIDE in what we do
We deliver the best services to establish trust between our clients and make their wedding journey as perfect as possible. Our friendly drivers can be trusted for they have been working for the company for many years. Additionally, our billing and reservations system is computerised, and it works for 24 hours, ensuring a reliable service.
we understand that you have questions
Responsive Customer Service
We are not just open 9-5; we aim to help our customers by responding to their inquiries and giving assistance whenever needed. Unlike other similar services which may take a while to respond to customer issues, we've gained an excellent reputation with our clients because of the fast and efficient approach to any problems that may occasionally arise.
The Best doesn't always cost the most
Our price range is considerably affordable, and we are transparent in every additional fee we charge. We provide quotes; however, various charges may apply. But you don't have to worry about it since we submit a full invoice and we will inform you if additional charges are applied.