Have you found your dream wedding car yet? If you're preparing for your big day and you've been looking for the best car options in Wales, you landed in the right hands. Choosing the best vehicle for your wedding can be quite stressful if you're the indecisive type, but we're here to guide you in making informed decisions, with all the up to-date facts on what planning a wedding can entail with regards to Covid-19
When choosing a car for your big day, it's essential to consider your wedding style. It can be something that complements the theme of your wedding or reflects you and your spouse-to-be. Do you like vintage? Or do you prefer modern ones? Do you want it to be minimal, or do you want to show off a bold statement? It's important to determine what vehicle you want for the most memorable moment in your life. And o
Your Ultimate Wedding Car Choices
MODERN CARS
Let's start with the modern car options that exude elegance, perfect for a modern-day wedding of yours.  
Rolls-Royce Cars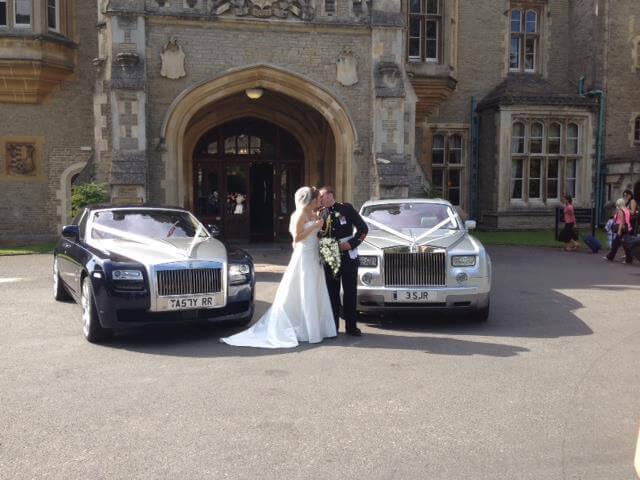 Rolls Royce cars are a legit statement of modern luxury from its striking silhouette to the finest chrome detailing. Each vehicle boasts supreme elegance and is unique to every owner. It is a top choice for many couples today who want to experience a modern magical carpet ride on their big day. Flagship modes of Rolls Royce today include the Phantom and Ghost. 
Phantom – Rebellious yet beguiling
The Phantom is not the World's Best Car for nothing. This 5-seater saloon which is a top pick for most couples is an epitome of comfort and elegance. It is always in demand for white weddings.
Ghost – Mysterious yet divine
Although white cars are more common for weddings, black ones won't fail to deliver an ultra luxurious ride and superb visual backdrop for your photos. 
Advantages of Using Rolls Royce Car on your Big Day:
1. Appealing esthetics
It's guaranteed to make your wedding fantasy a reality. The sunroof, silver coachwork with hand-painted coachlines make the interior of Rolls Royce just as captivating as its striking exterior. If there's a word that could define this car, then it would be perfection. 
2. Exceptional performance 
Rolls Royce has made its name today not just due to its premium look, but also due to its performance. So, you can rest assured that the ride will be smooth and hassle-free since the chauffeurs that will accommodate you are expert in managing this holy grail. 
3. Safety features
Modern cars like Rolls Royce have the most advanced safety features like driver and passenger airbag, child safety locks and anti-lock braking system, park and crash sensors and more. These technological innovations help ensure your safety as you travel during one of the most memorable moments in the couple's lives.  
4. Entertainment features
Travelling to your wedding venue shouldn't be boring, and with a Rolls Royce, there's so much more to the journey than just a ride. You can watch videos on its rear TVs or play your favourite romantic music to set the mood for your big day and share a bottle of champagne with your better half as you proceed to the reception venue.
Price: Although Rolls Royce Ghost and Phantom are premium wedding cars, hiring a chauffeur-driven car on your wedding day won't hurt your pocket much because you can experience an entrance the Rolls Royce way at just £350. Although the cost may be subject to additional charges depending on the distance and number of hours of hiring the vehicle, this price would be surely worth the journey. 
Range Rover Vogue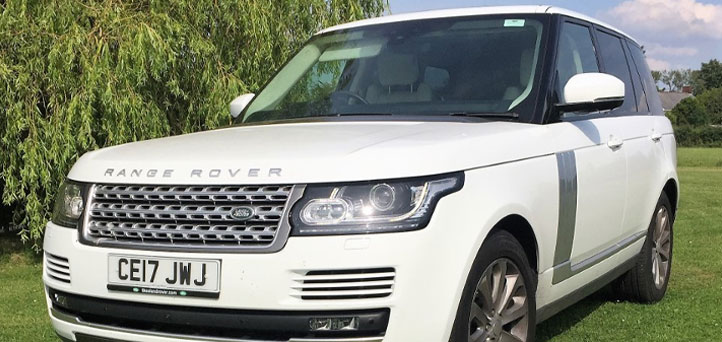 This Rover Vogue with masculine build also offers a first-class travel experience. It has beautiful interior features and a bigger seating capacity. It can highlight your presence on your wedding day and deliver you to the venue safely and comfortably. 
Benefits:
Affordable Luxury
With its elegant interiors, floating roofline, continuous waistline and refined lower accent graphics, this car offer luxury and greater comfort at a competitive price. 
Infotainment Features
Just like the famous Rolls Royce options, this car is also equipped with the latest infotainment system, including its 10 inches high definition Touchscreens and meridian system. Pulling out a surprise video message or romantic music for your better half while you're on the way to your wedding or reception venue is also easier with this high tech feature. 
Superb Performance
This carefully engineered vehicle won't disappoint, and it can indeed deliver smooth performance on off-road driving due to its precise All Wheel Drive(AWD) and powerful engine. 
Higher Seating Capacity
 This vehicle can accommodate 5 to 7 people. Therefore, it's not just ideal for a bride and a groom but also groomsmen or bridesmaids.
Safety Features
Range Rover also comes with a handful of safety features that can make you feel secure on your big day, including hill descent and roll stability control and driver-assist technology. 
Price: Hiring price of Range Rover Vogue starts at £295; perfect for those who are looking for a less expensive vehicle that delivers premium quality. 
If a large car is not your thing, then here's an alternative option that also offers a competitive price rate. 
Nissan GTR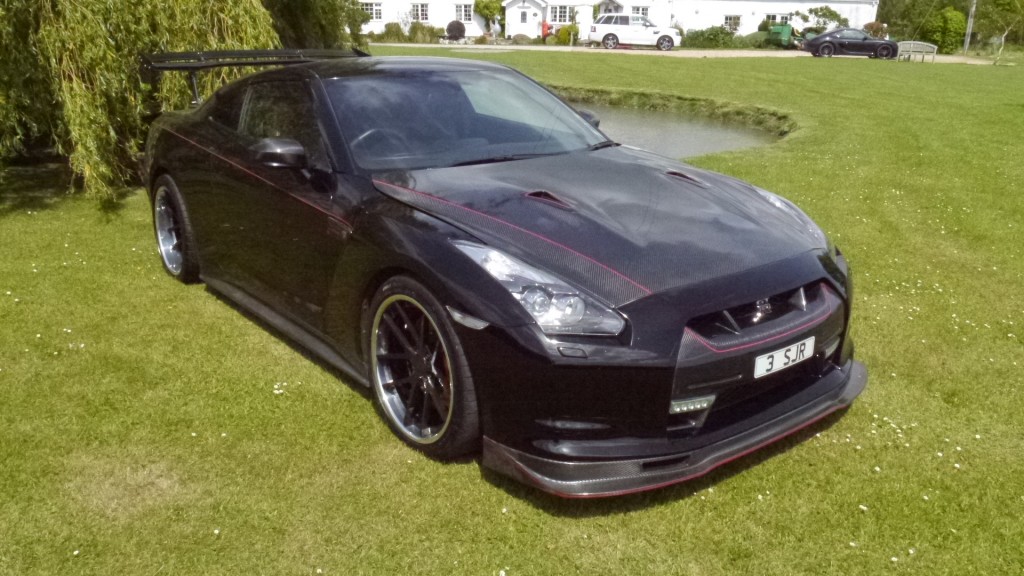 This powerful supercar is the groom's favourite due to its aggressive and pure perfection in style. Its feature-rich design that has evolved through the decades and extraordinary sports car performance is such a wonderful treat for yourself during your wedding day. 
Benefits:
1. Performance
This supercar also excels out of the racetrack. With its increased horsepower and torque, enhanced aerodynamics and chassis reinforcement for a more improved high-speed handling this vehicle can exceed beyond your expectations. Although travelling to your wedding destination is not a race, you're sure to experience a fast and smooth ride. 
2. Infotainment System
Just like the previous cars we've mentioned, this GTR also has its own 8.0″ touchscreen and built-in infotainment system and Bose audio system that provides good sound quality. 
3. Safety Features 
It also comes with six airbags, anti-lock braking system, and tyre pressure monitoring system all designed to ensure your safety while travelling to your dream wedding venue. 
4. Cheaper Cost
One of the best things about GTR car hire is although it offers a premium experience, you can book it for your wedding without breaking the bank. It's cheaper compared to Rolls Royce and Range Rover but the quality, visual appeal and performance can surely impress guests on your big day. 
Price: You can hire a chauffeur-driven Nissan GTR for as low as £250. This is an excellent deal for its price. 
Tesla Model S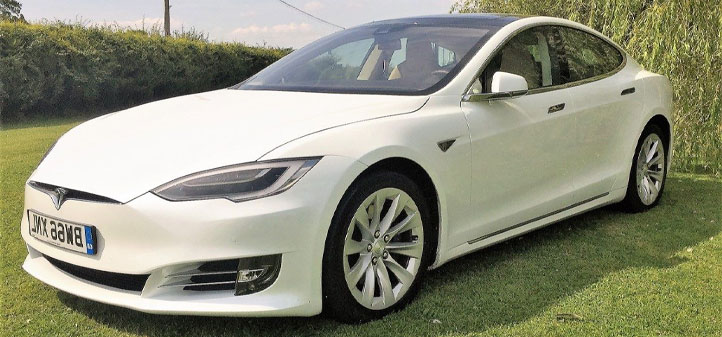 Unlike the previous cars mentioned above, Tesla Model S is an all-electric car with ludicrous performance, feature-rich design and modern luxury. It can seat five adults and offer a unique experience. If you want to arrive at your wedding in a stylish and classy way, Tesla Model S is the car to-go. 
Pros of Hiring Tesla Model S:
1. Industry-standard performance
This all-electric Model S sets the bar high for electric cars in the industry, and its powertrain delivers unparalleled performance. 
2. Infotainment Feature
Model S has a fair share of infotainment features too. Although it's built around the driver, our friendly chauffeurs can help provide entertainment for you and your partner with some music or videos that can be played in its 17-inch touchscreen display.
3. Premium design
This car boasts a unique Glass roof that provides more headroom and UV protection and uncompromised aesthetics which is evident in both its exterior and interior styling. Its white ivory leather finish also fits and complements the bride's dreamy dress and the groom's wedding suit. 
4. Safety 
Model S is built with high-strength architecture, and its floor-mounted battery pack provides impact protection. It also comes with an autopilot advanced safety and convenience features that assist the chauffeur while driving to keep you away from accidents. 
5. Competitive Price
Tesla Model S is priced similar to Nissan GT-R, giving you more options to choose from if you're on a budget. We understand that planning and preparing for a wedding is costly, but this option will help you enjoy luxury at your wedding at a lower cost during this pandemic. 
Price: The starting price for a Tesla Model S car hire is £250, but the cost may vary depending on the duration and distance you have to travel. 
If you're not fond of modern luxury cars, then why not go vintage on your big day? 
VINTAGE CARS
Old school vehicles are never out of style. Although vintage cars are quite outdated in terms of technology, its iconic style and undying charisma is still capturing the hearts of many couples till this day. If you're a vintage lover, these wedding transport favourites will be worth considering for you. 
Gemima The Bramwith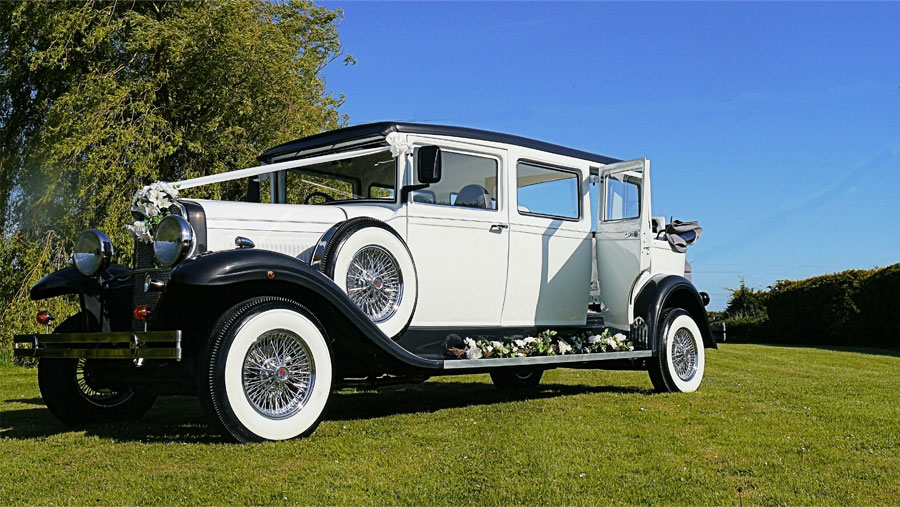 If you want something new out of something old for your wedding, vintages like Bramwith are worth a look. This old-fashioned but at the same time, the modern carriage is a stellar transport option for your special day. It comes with a custom-built champagne holder, perfect for an intimate celebration while travelling to and from the venue. 
Advantages of a Vintage Bramwith Landaulette:
Carries a vintage style
This transport vehicle is a paradigm of raw beauty and luxury of vintage cars, making it ideal for a fairytale-like wedding journey. 
Well-maintained engine
Just like other cars in our fleet, we make sure that this car has good engine performance so that the travel will be free from engine breakdown. 
Budget-friendly price
This car can carry up to six people and offer a hassle-free ride, but the best thing is you can hire a chauffeur-driven one without breaking the bank.
Price: A chauffeur-driven Bramwith car hire starts at only £250. 
The Viscounts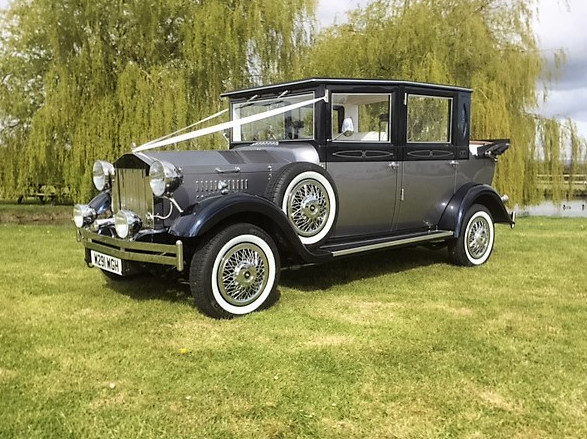 These 6-seater vintage cars give off a British sense of style, and its Rolls-Royce Jubilee silver finish perfectly complements the Rolls Royce Phantom. It comes in two different variants:
Flora the Viscount
Genevieve Viscount
These Viscounts are increasingly popular these days. And if you're looking to have a matching car with your bridesmaids or groomsmen, it would be a fantastic way to enter your venue while you're on board on a Phantom and your entourage is on the Viscounts. 
Benefits of Choosing Viscounts:
So British, So vintage
This vintage masterpiece is a work of art that flaunts the beauty of British classics; a fantastic transport option that flashes back the sense of style in the past. 
Cost-effective
The Viscount's price range is similar to other classic and vintage cars, giving you more options at a cost that's within the budget. 
Price: You can hire the Viscounts for your wedding at a very affordable rate of £250. 
CLASSIC CARS
Chevrolet Bel Air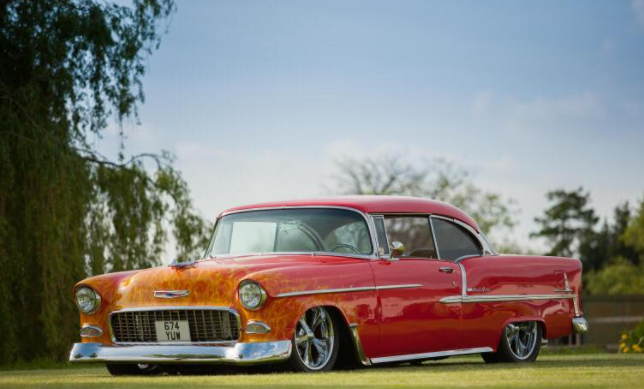 The Chevy Bel Air everyone loved in 1955 is a classic worth considering too. The elegant red exterior finish, unique yet comfortable leather seats in white ivory colour, old-fashioned yet nostalgic analogues and fiery aura makes it one of the hottest classics today. You'll never go wrong with this Chevrolet. It will not just set your wedding photo backdrop on fire, but it can also make the journey more memorable and exciting. 
Pros of using the Chevy Bel Air on your wedding: 
Classic style
Classics are timeless, and although modern cars offer a great luxury experience, Chevy Bel Air will never go outdated. Their distinctive charm lasts a lifetime. 
Unique experience
This iconic car offers a glimpse of the glory of the past and provides a whole new level of experience. It is relatively rare in Wales, that's why riding on a Chevy Bel Air while travelling to your wedding venue is one for the books. 
Smooth performance
This car went under full restoration of 10 years; thus, we can guarantee a smooth and comfortable ride with this super-fiery Chevy. 
Budget-friendly price
This Chevy used to be a luxury for most people in the 1950s, but today, you can get into it at a more cost-effective price, but the quality and performance remains undeterred. 
Price: The hiring cost for Chevrolet Bel Air starts at £250. 
Cadillacs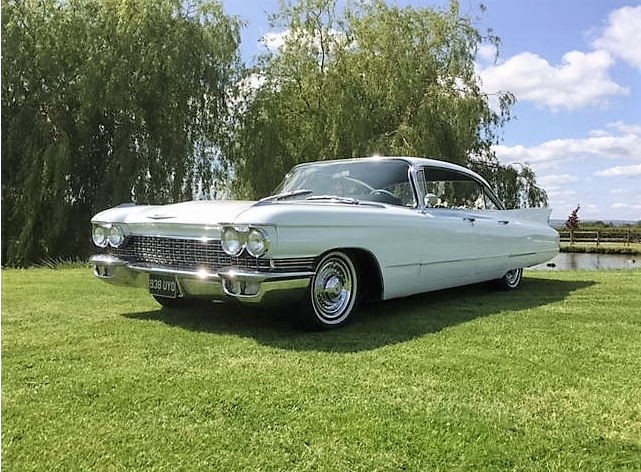 The old-world charm of Cadillac is still alive, and it's always worth a shot at your wedding. This iconic car has a sleek, sophisticated, and luxurious design that can make your entrance more in style. Its classic lines and good looks made it a status symbol in the early 90s. You don't have many opportunities to ride in a Cadillac on a regular day, so why not try it out on your wedding? 
Benefits of choosing a Cadillac as a wedding transport?
Iconic Design 
Cadillac's iconic fin tail design with full-width grille and taillights exudes a nostalgic beauty that's perfect for classic- style weddings. 
Fine performance
Our fully-restored and well-maintained Cadillac with V8 powered engine is always kept at its finest to deliver a smooth ride and comfortable ride on your big day. 
Budget-friendly price
You don't have to pay thousands of pounds to experience the old school luxury of Cadillacs because you can hire a chauffeur-driven one now at a very affordable cost. 
Price: The minimum hiring rate for a Cadillac car is £250. 
Although most vintage cars don't offer the latest safety features that are available on modern vehicles, we ensure that you can arrive safely in your venue by deploying only the best chauffeurs that are expert in handling vintages. 
Since we are currently experiencing the pandemic, your health is on the line too, so we have taken precautionary measures to help you keep your wedding plans and take you to your destination safely. 
What Weddings Are Like During COVID-19 Pandemic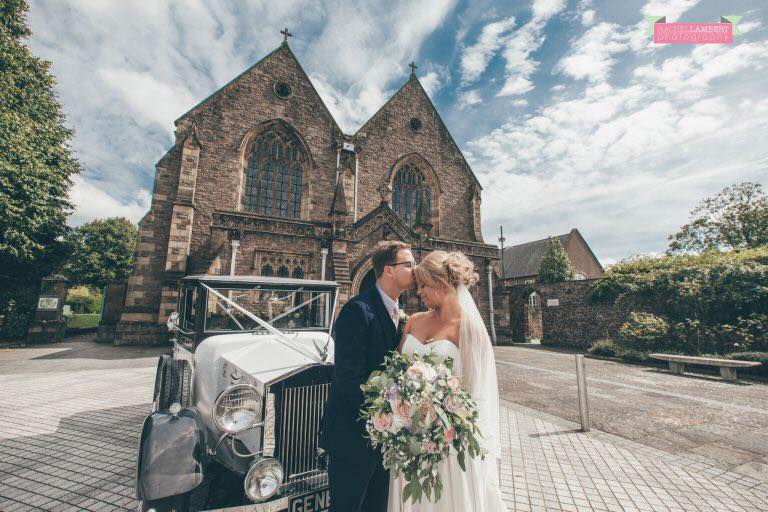 While The COVID-19 virus continues to spread, many couples still push through their wedding plans despite the global pandemic. In these challenging times, we are determined to serve and help you to make your wedding amid pandemic success. We know that such a once in a lifetime event is memorable for you, that is why we aim to provide better service without compromising your health and safety on your celebration of love and union. That is why we are strictly following the health and safety guidelines provided by the UK government. To ensure that you, our staffs and chauffeurs are away from the virus, we implemented the following preventive measures:
Our professional chauffeurs will wear masks, gloves, face shields during the entire party. 
We will also disinfect every touch point in and out of the car like the wheels, door handles and switches. 
During checkouts and visits to our showroom, we'll also make sure to practice the 2-metre rule.
Every car will undergo a 24-hour quarantine period after the disinfection to ensure that any of our clients have no chance in harbouring the virus. 
As we embrace the new normal, we strive to tailor-fit our services to meet your needs, wishes and expectations so that you can achieve your dream wedding with minimum fuss. You can view all these wedding car options at our showroom by appointment. 
We understand that planning a wedding during Covid, may be frustrating, with limited guests and limited entertainment we know that everything might not feel perfect. But rest assured, our services will not be altered. We will still provide you with quality chauffeur services, delivering you to your destination with punctuality and friendliness.